Tour De Penge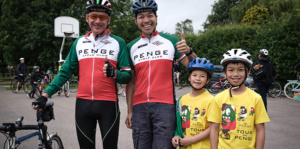 We are pleased to announce The Tour de Penge will be held on Sunday 12th June . It is a free-to-enter community bike ride from Penge to Greenwich and back.
This is a popular fixture in the local calendar and is part of the annual Penge Festival. It involves 300 or more cyclists of all ages and abilities on a guided, safe and off-road route from Penge to the iconic Cutty Sark in Greenwich and back, a round trip of 16 flat miles.
You don't have to be a member of Penge Cycle Club to join in. For first-timers, the revelation that you can cycle along canal paths and through parks all the way to the Thames will come as a wonderful surprise. For regular Tour riders, it is a great chance to enjoy a family ride, take in ice cream and (hopefully) enjoy the sunshine.
Sign on at Alexandra Junior School, Cator Road, London. SE26 5DS. Find it on Google maps. Meet from 8:30am with the ride starting at 9:30am. Gather at the school with your bikes ready for action. Get there early to meet old friends and make sure you are signed on for the ride. We'll have some Tour de Penge T-Shirts and Penge CC merchandise available to buy.
Also, we have the London Borough of Bromley's Dr Bike at the start to help sort any simple mechanical problems but do make sure to check your bike over before the day.
We divide up into groups of 20 or so, with a leader and a back-marker and set off at regular intervals towards Greenwich.
When we arrive at Greenwich, we pause for the odd photo, drink and snack for about 20 minutes. We then make the return journey in the same groups that we set out with, pausing to let the young ones rest if they need to.
The route
This follows National Cycle Network route 21 – The Waterlink way. A Garmin-ready route can be found on RidewithGPS.
Finish party – Alexandra Junior School, Cator Road, Sydenham, SE26 5DS
The finish is back at Alexandra School with a feast. We have soft drinks for the kids, a fantastic BBQ, a raffle and some refreshments for the grown-ups.
Volunteers
We always need volunteers to help the day run smoothly. The key roles we need support with are:
Pre-ride publicity
Sourcing raffle prizes and selling raffle tickets
Leaders and back-markers to take the groups to Greenwich and back without getting lost
Taking turns with the BBQ
Calls go out for volunteers on email and Facebook to members as the date approaches.
We use the day to do some fundraising for our chosen club charity, Wheels for Wellbeing. We also have great support from the local London Cycling Campaign Group: Bromley Cyclists and Bromley Council's Road Safety Unit, along with the support of many of our neighbouring cycle clubs, including regular partners, Bigfoot CC from Bromley.
For any offers of help or for further information, contact: tourdepenge@pengecc.org.