Water De La Mare Walk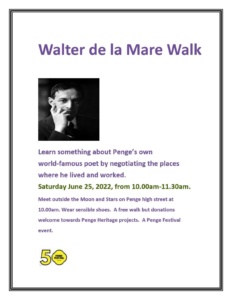 Learn something about Penge's own
world-famous poet by negotiating the places
where he lived and worked.
The Penge Festival are please to announce the return of The Walter de la Mare Walk on Saturday 25th June Meeting outside The Moon and Stars. This is a free walk but any donations will be donated to The Penge Heritage trail . Dr William Wootten will now lead the walk. Dr Wootten is an expert on Walter de la Mare. Refreshments will be served at the end of the walk at 14 Thornsett Road.